These are a few Christmas light pictures..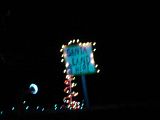 The picture with the blue sign says "Santa Land Here." I must explain... Across the road (my cousin's house) they came up with this little "landing strip" for Santa. There are 2 strands of blue lights with candy canes at one end and the sign at the other.. My brother's call it "Drrr International Airport" LOL. I guess the landing strip idea is a little cute, but.. yeah... :P


Next, this is the little tree beside out steps.. My mom really did a great job.


And last, my house! My mom really did do a good job. I love looking at the lights.